INTERIOR DESIGNERS WE LOVE: BORN & BRED STUDIO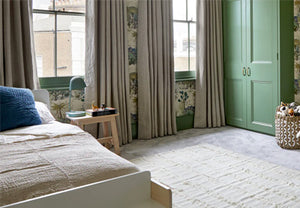 An award-winning design shop in London,
Born & Bred
aims to bring beautiful, modern family interiors to a traditionally "stuffy" market (their words!). We asked founder Lisa Mettis all about her process, favorite design trends and uniquely British POV. All photography by Anna Stathaki. 
HOW/WHY DID YOU IDENTIFY YOUR FOCUS OF DESIGNING FOR "CREATIVE FAMILIES AND LITTLE PEOPLE"?
The direction of Born & Bred Studio towards designing for "creative families and little people" arose from a recognition of the absence of interior design studios that truly understood the realities of family life. At the time, London's design studios seemed distant and somewhat unapproachable, especially with the rise of social media, which highlighted this disparity. Many of us at the studio had personal experiences with family life and the unique interior design requirements that come with it. This inspired us to embrace the everyday aspects of family living and transform them into something extraordinary for our clients.
I LOVE THAT YOU HAVE A SOPHISTICATED YET PLAYFUL TAKE ON DESIGNING FOR CHILDREN. WHAT DOES YOUR DESIGN PROCESS LOOK LIKE?
Our design process is an extension of each individual family and how they live and parent. This looks very different for each family. We have an initial consultation to establish a brief, scope of work and practical requirements. We then revisit with a design direction that incorporates the children's spaces within the entirety of the home — so complementing the adult spaces (if that's the brief of course). We then move onto detailed design that incorporates all the finishes, paint colours and plans. Followed by implementation day...which essentially is the big reveal. The end of the journey for us, but the beginning of more cohesive inspired living for the family.

River Twin Bed Shown
WHAT ROOMS ARE THE MOST FUN TO DESIGN AND WHY?
Personally I don't have a favourite room as it very much depends on the clients' brief, level of trust and taste. A powder room can be as fun to design as a children's playroom. It really depends on the family!
WHAT ARE THE CHALLENGES YOU FACE IN YOUR WORK? 
We are very lucky to have grown through Covid and the ongoing financial crisis. Our challenges at present are the boring but very real challenges of the economy and supply and demand issues with regard to goods and services. We have good relationships with a little black book of artisans and trades who accommodate our loyal and ongoing relationship. However we do need to factor in longer lead times and material increases for clients (news we do not always want to deliver!).

River Twin Bed Shown
IT LOOKS LIKE YOU HAVE USED MANY DIFFERENT BRANDS IN YOUR DESIGN WORK. ARE THERE THINGS THAT STAND OUT ABOUT OEUF PRODUCTS? DO YOU HAVE ANY FAVOURITE OEUF DESIGNS?
We LOVE Oeuf products. Aside from the product design that speaks for itself, it's the quality we love and can 100% vouch for. This is incredibly important to our clients. Products that look good with longevity, that can be handed down to little bro or sis are important. I love all the products...but I do have a soft spot for the Perch Loft Bed!
WHAT DESIGN TRENDS DO YOU LOVE/DISLIKE?
I keep abreast of trends but do not follow them religiously. For me, creating a successful interior is about personalisation and personality. I strongly believe your house should say something about you as soon as you walk in. This could be a family heirloom or the latest chequerboard tile. It's the elements and curation that make the home...not the level of how many current things you own.

River Twin Bed Shown
IS THERE ANYTHING THAT YOU BELIEVE MAKES YOUR DESIGNS PARTICULARLY BRITISH? DO YOU SEE ANY OF YOUR NYC EXPERIENCE REFLECTED IN YOUR WORK? 
The studio is named Born & Bred as I'm a born and bred Londoner — something that is a novelty to many people (which came as a surprise to me). I expect it's the same in NYC. People come to London (and New York) to study, work and explore…so people find it entertaining to meet someone local. I think there is an energy and eccentricity to British interiors and that's mainly down to our beautiful heritage housing stock, unique to us. Typically a family will live in a Victorian House but behind each identical closed door tells a different story...we love period property renovations (in fact we do not work on new builds)...so we know how to highlight the building's eccentricity (and restrictions) to make it relevant to modern family life.

NYC is always inspiring. One of my favourite cities and a time I treasured for the short time I lived in the US. I'm actually heading to NYC next week after a long break and cannot wait to feed off the energy and vibes a large city brings, through a new lens. It's been too long!
Learn more about Lisa and her work at bornandbredstudio.com or @bornandbredstudio.