OEUF BUNK BED GUIDE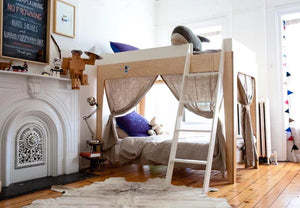 FEATURING LAURA FENTON
 Author of this summer's The Bunk Bed Book, Laura is an expert in small-space and sustainable living. We were delighted to hear that our Perch Bunk Bed makes several appearances throughout the book — but even happier to hear that it's the bed of choice for her 6-year-old son! Oeuf founders Sophie & Michael designed the Perch Bunk Bed for their own son Marius, who will soon be off to college. (Time flies when you're well-designed!) We talked to Laura about what makes the perfect bunk, plus we're sharing design inspiration and FAQs about our top-selling Perch.
@LAURA.ALICE.FENTON
First of all, top or bottom?
Growing up it was top bunk (I was the older sibling), but now I'm relegated to bottom bunk because my six and a half year old would never give up top-bunk status.
Did you have a bunk bed as a child? Or did you always want one? Did you suffer from bunk bed envy?
Yes, my sister and I had bunks (and some very cool rainbow striped sheets!) until we got our own rooms when I turned 10. However, I still suffer from a bit of bunk envy whenever I see a particularly cool bunk bed. I was also very jealous when I saw the full bunk room my husband and his cousins shared as kids.
Do you have any funny anecdotes about bunk beds?
I never expected to be writing a book about bunk beds, but after my first book The Little Book of Living Small [ital.] was published, my then-4-year-old son told me in no uncertain terms that he and I were going to write a book about bunk beds. (A particularly cool L-shaped bunk bed in my book had ignited his passion.) Through his passion for bunks, I discovered what a wide world of bunk beds there was! Short ones, super-tall ones, triple bunks, trundle bunks and bunks that looked like full-blown forts. Not to mention all the loft beds and beds tucked into cozy nooks that also popped up in our search. I decided to order our family a book about bunk beds to further fuel our fun, but when I went to look for one, there were none in print. Turned out my preschool-aged son was right: We needed to write a book about bunk beds!
What else fueled your inspiration?
It was all my son! After he fell in love with bunks, the appearance of a lofted bed in a storybook was enough to make it a bedtime favorite. His eagle eye would spot bunks in the home magazines and catalogs that came to our home. If he found out that a friend had a bunk bed, oh man, we'd hear about it for weeks. Finally, my husband and I said we'd begin the hunt for a bunk bed of his very own (even though he was still young for a bunk). I created a Pinterest board and started a saved collection on Instagram to gather ideas. We dug up the photo of the bunks my sister and I slept in as kids. My husband told us stories about that cousin-filled bunk room at his family's summer retreat. Whenever friends came over my son would ask me to show off our digital collection of dream bunks. Kids and grown-ups alike loved to weigh in on the possibilities. It really made me believe bunks deserved a whole design book.
What makes the Perch a good bunk/loft bed option? Why did you choose to feature it in your book?
Quality and its chameleon-like design. You really get what you pay for when it comes to bunk beds, and I would discourage anyone from pursuing the many cheaply made bunks you can buy online. Oeuf's bed is so well (and responsibly) made that you know you're getting something that will last — I've heard so many anecdotes about people handing theirs down and buying them secondhand, which is a testament to their durability. WIth regards to style, there is something about the Oeuf bunk design that really can go in so many different decor angles from minimalist to modern farmhouse. I loved seeing all the different ways that decorators and everyday homeowners used this bunk. There were more rooms with the Oeuf bunk that I loved, but we couldn't fit every room into the book!
Where does your passion for bunk beds come from?
Beyond my own child's enthusiasm for bunks, I'm pretty passionate about small-space living. For many, living in a small space is not a choice, but a necessity. But for those who could choose to live large, I believe there are advantages to living small – and a bunk can help you do it! A smaller home will cost less — both to buy or rent and to keep up. A small home is easier to maintain. Less space means less to clean; fewer belongings mean less to keep organized. A small home is better for the earth. We'll use less energy to heat, cool and power smaller homes. We also take up fewer resources to furnish and maintain them. A small home forces simplicity. With less space to squirrel away our belongings, we can live with the things we truly love and use. A small home fosters closeness. Families and couples that live in tighter quarters spend more time in each other's presence, allowing for more moments of intimacy.
How does a bunk bed benefit a small space?
Beds take up a ton of floor space: With a bunk you get all that real estate back for other activities like playing, studying, making art. A bunk can make room for another sibling. A bunk bed can help you stay in a beloved home for a few more years before moving to a bigger space. A bunk can enable you to host more friends and family at your home.
What should people consider when selecting a bunk or loft bed?
Your child's age is key. Many people are tempted to rush kids into a bunk to save space when kids need to share a room, but kids really should be at least 5 (and ideally 6) before taking a top bunk. The Oeuf bunk is a little lower than some others, so it's a good choice for kids on the younger side, but it's not so low that they'll outgrow it quickly. Headspace is especially important; you need at least 36-inches between the top of the top mattress and the ceiling (or bottom of the top bunk). Twin-sized beds are most comfortable for people who are under 6 feet tall. If your bunks will be used by taller adults, an extra-long twin or even full-sized bunk bed is the way to go.
The Oeuf Perch Bunk Bed: Everything you need to know 
Perch Bunk Bed accessories: Designed for ultimate versatility, in the Oeuf Perch Collection, you'll find…
Oeuf Perch Bunk Bed with trundle: Here's our Perch trundle bed recipe: 
Perch Trundle Bed - Twin Size

 

— This provides the roll-out trundle bed, as well as a replacement ladder that hangs vertically so it doesn't interfere with the trundle 
Oeuf Perch Bunk Bed instruction manual
Oeuf Perch Bunk Bed assembly video
Perch Bunk Bed weight limit: The weight limit for the Perch loft (top bunk) is 250 lbs. 
Bunk Bed age limit: The Consumer Product Safety Commission recommends the top bunk for children 6 and older. 
Perch Bunk Bed on sale or secondhand: Oeuf furniture does not go on sale. Thanks to durable quality, it's often resold or handed down, and we suggest checking your local listings. 
Perch Bunk Bed in full size: While we do not offer a full size bunk bed, the Perch Loft Bed is available in a full size. For another full-size bed see our River Full Bed.
Perch Bunk Bed dimensions (US & Canada only): At 64" tall, our loft bed is lower than conventional lofts, improving accessibility as well as fit in small rooms.